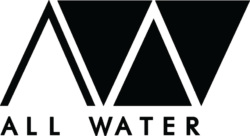 REDEFINING PADDLE SURFING
High Performance Surfboards You Ride Using a Paddle
The Allwater Evolution
We specialize in making custom standup surfboards that will improve your fun and performance dramatically overnight and overtime.
The trick is making one stable enough to stand on and high-performance enough to do the kind of surfing you want to do. Years of doing that for myself successfully has taught me how to do it for others and help them have way more fun while achieving their performance goals.
It's been a 10 year journey for me from riding ripples on a 12 footer to doing short board turns on a seven footer and everything in between. I've been designing and experimenting with my own equipment for many years. That journey has taught me how to build boards that I can stand on comfortably and surf on radically.
And I can do that for you.
–  Tyler Callaway, Allwater Founder / Designer
Performance Progression
The key is to get a board that challenges you slightly in your balancing abilities and surfs way better than what you are currently riding. You don't want to struggle paddling and catching waves. But you do want to improve your surfing steadily with every session.
Whether it's by choice or by necessity, the fact that you're surfing a stand up board means you can access a new world of performance, fun and freedom.
There are still lots of uncrowded waves in most places in America. The trick is having the right board to ride them and the desire to do something different.
Allwater is the culmination of years of work with some of the best surfers and surfboard builders in the world allowing us to bring that ultimate in performance to you.
The Allwater Advantage
We use patented designs and state of the art materials to create some of the best boards in the world for stand-up surfing.
V3-Concave:
After much experimentation, and working with some of the best SUP surfers in the world, I devised the right combination of three bottom concaves and a spine that work together to make the fastest, most maneuverable (yet stable paddling) boards I have ever ridden. We call this performance design, the V3-Concave. The V3-Concave works so well and has been embraced by so many people, that it is patent pending. Boards without it now feel noticeably slower and sluggish.
Click below to view the V3-Concave technology close-up!
Construction:
Allwater also uses recyclable 1.5 pound EPS foam because it's the right mix of weight and strength. Instead of wood stringers, we use a Basalt Drive Belt which adds noticeable flex to the boards and keeps them strong and light. This product is similar to carbon tape, but actually allows the board a little more flex which we love! We also use 40 percent plant-based epoxy resin, and organic hemp as a deck reinforcement. Made in San Diego, California USA!
What Customers Are Saying