Allwater custom boards for people who take their fun VERY SERIOUSLY.
Allwater:  Flying Fish 2
This board has opened up a whole new world of performance for me. It's only 13 inches taller than I am and was designed to surf small summer surf here in San Diego. We worked off of a traditional fish design to be able to create glide while paddling and stability while standing yet still be able to generate speed on small and medium size wave faces. This board almost stopped me from short board surfing entirely. I have been having so much fun on it on waves from knee-high to about 2 foot overhead. It is smooth and generates speed unbelievably. It loves small to medium sized down the line surf, not necessarily that steep. it generates speed exceptionally well in small mushy surf and good surf. I typically ride this one as a quad to get maximum speed generation and maneuverability on flatter faced waves.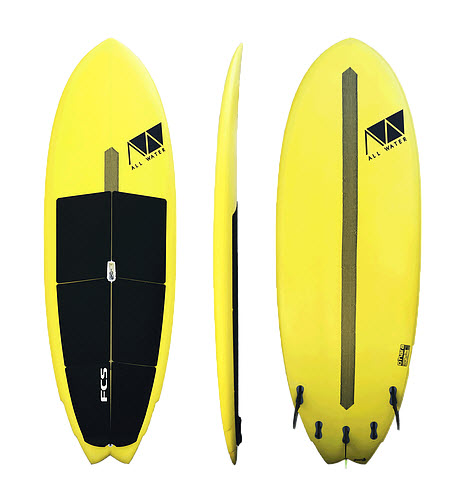 Suggested Dimensions
6'10 x 27″ x 4″ (88.5L)
7'0 x 28″ x 4.25″ (99.7L)
7'4 x 29″ x 4.5″ (114.4L)
7'10 x 29.25″ x 4.5″ (123.6L)
8'0 x 29.5″ x 4.5″ (127.4L)
8'4 x 29.75″ x 4.5″ (134.1L)
8'8 x 30″ x 4.5″ (140.8L)
9'0 x 30″ x 4.5″ (146.6L)