Allwater custom boards for people who take their fun VERY SERIOUSLY.
Allwater:  Glass Ripper
The Glass Ripper is our high-performance all-around good wave machine. The Glass Ripper feels like a finely tuned surfboard and fits in critical parts of the wave. One of my goals has always been to get my stand-ups to feel like regular surfboards yet retain the glide and paddle ability that makes SUP so much fun. My ideal size for this one is 2 feet above my height.
This is what I recommend for anyone looking to get more radical on a variety of good waves. This year's Glass Ripper has been updated with our new V3-concave. This represents an all-around improvement which is more stable and more maneuverable on the face of the wave rail to rail. That is a hard balance to achieve and the Glass Ripper does it really well!
The Glass Ripper represents a tried-and-true shape with the fuller nose for stability and a narrow tail for maneuverability. The Glass Ripper is an all-around performance board that will help you transition into the next level of sup surfing from cruising to ripping.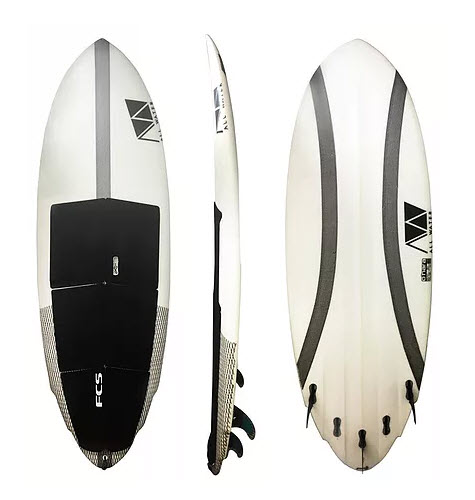 Performance Feedback
Ride this board 1-3 feet taller than you are. We can adjust width and volume to meet your needs.
Rails: Medium Full
Bottom: V3-Concave
Rocker: Gradual Entry to Accelerated Tail Rocker
Suggested Dimensions
7'0″ x 28.0″ x 4.0″ (88.9L)
7'6″ x 29.38″ x 4.5″ (110.4L)
8'0″ x 28″ x 4.4″ (110.3L)
8'8″ x 29.5″ x 4.5″ (134L)
9'6″ x 31.5 x 5.4″ (180L)