Allwater custom boards for people who take their fun VERY SERIOUSLY.
Allwater:  New Beauty
The New Beauty is an outright Ripper. The one I ride is 7'2″ x 28″ this is my favorite for marginal to good waves. My V3-Concave makes the board more stable while standing and very maneuverable while riding. For me it was a giant breakthrough in performance and stability.
My quest was always to be able to surf like the pros, but I simply couldn't balance on the equipment that they use. So i figured out how to make a board that is stable when paddling and maneuverable when you're riding it.
Those of you who are a little more accomplished and want to do tighter turns and more radical maneuvers will love the New Beauty. The Beauty borrows it's lines from the Brother Ray but features a double wing round round pintail that allows for engaging the more critical parts of the wave to gain speed and do radical maneuvers.
The New Beauty is a step forward in performance. It is a link between the Brother Ray and the boards we have been making for some of the top pros. It offers people a chance to step up their game into more radical carving maneuvers than ever before.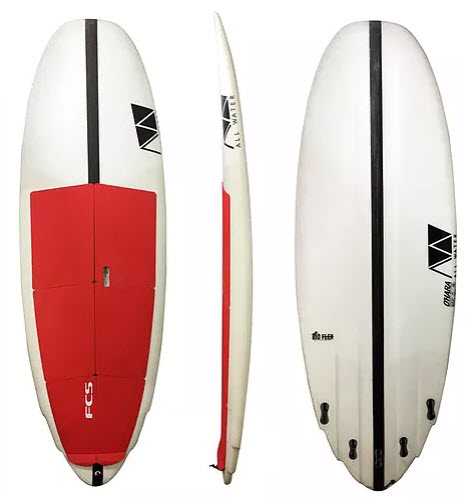 Performance Feedback
Ride this board 1-3 feet taller than you. We can adjust width and volume to meet your specific needs.
Rails: Medium Full
Bottom: V3-Concave
Rocker: Gradual Entry to Accelerated Tail Rocker
Suggested Dimensions
6'11" x 27." x 3.9″ (82.3L)
7'2″ x 28″ x 4.10″ (93.1L)
7'8″ x 30." x 4.56″ (119.2L)
8'0″ x 31.50″ x 4.62″ (128.6L)